date: july 2014
destination: malaysia, penang
[part 3: food]
 
With an ethnic composition similar to our little red dot, it is no surprise that Penang cuisine is equally diverse. Over the few days in Penang, we had our fill of Char Kway Teow and Penang Laksa, Rojak, Prawn Mee, Lor Mee but it was never enough! I had to hold back my tears on the way to the airport just thinking about all the food we didn't get to eat.
• • •

 
[Above]
This bowl of Penang Prawn Noodles (Hokkien Mee) is set to tantalise the taste buds. The noodles come with a hard-boiled egg and prawns, and the option to add on other ingredients such as pork ribs, roast pork, meat balls.. etc. Of course, we had to have the best and we added everything. The Penang prawn noodles (Hokkien Mee) is prepared in a very different style from the ones in Singapore. It is sweet and tangy at the same time, but nowhere as sour as Penang Laksa. The roast pork was impossibly crispy despite being served in the soup, and the flavours burst with every crunch.
Old Green House Restaurant
223, Jalan Burma , Penang 10300
[Below]

The best thing to have in 100 degree celcius Penang weather would be this bowl of simple, no-frills Chendol. It was hard to hunt down the best Chendol as there were many similar stalls citing themselves as the most popular. We found the stall in a crowded alley where people nestled at the sides of the road, careful not to spill any bit of this heavenly dessert while avoiding vehicles passing through. Each bowl is packed with pandan-flavored palm floor noodles (green worms thingy), coconut milk, gula melaka and kidney beans. The coconut milk is so refreshing and light – practically a life-saver in the intense heat, and it leaves you lapping up every drop for more.
Penang Road Teochew Chendul
27 & 29, Lebuh Keng Kwee, George Town, 10100
Cozy in the Rocket
• • •
With a thriving cafe scene in Penang, we were spoilt rotten for choice when it comes to choosing where to go! I love Cozy in the Rocket for it's eccentric name, and the alluring artsy vibe. I would say that it is my favourite out of the many cafes we have visited. The vintage style cafe is completed with a touch of green, and wide windows that lets the sunlight in. The cafe extends into a beautiful courtyard where visitors can sit and enjoy the buzz from the busy street while enjoying the comfort the earthy ambience provides. Food and coffee was great, and I love the random artworks in this cafe which gave a touch of personality.

262 & 264, Lebuh Pantai
Penang 10300
China House
• • •
We followed a trail of cake crumbs and it led us to China House where platters of cakes were laid out before us. Like in the classic fable of Hansel and Gratel, it was practically a fat kid's dream come true.
After a very hearty brunch, we settled for a slice of lemon poppyseed cake and a slice of buttermilk chocolate earl grey cake which were both moist and delicious. The facade of China House is both traditional and contemporary at the same time, it felt like we were transported back into the glitzy era of colonial times. Definitely worth visiting. :-)
153, Lebuh Pantai, Georgetown,
Penang 10300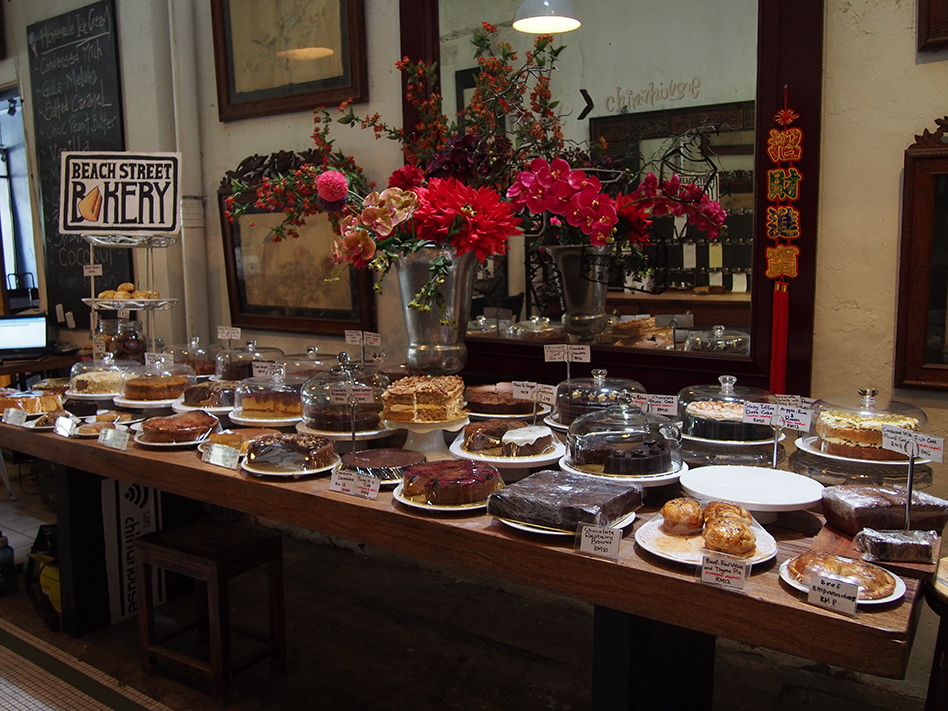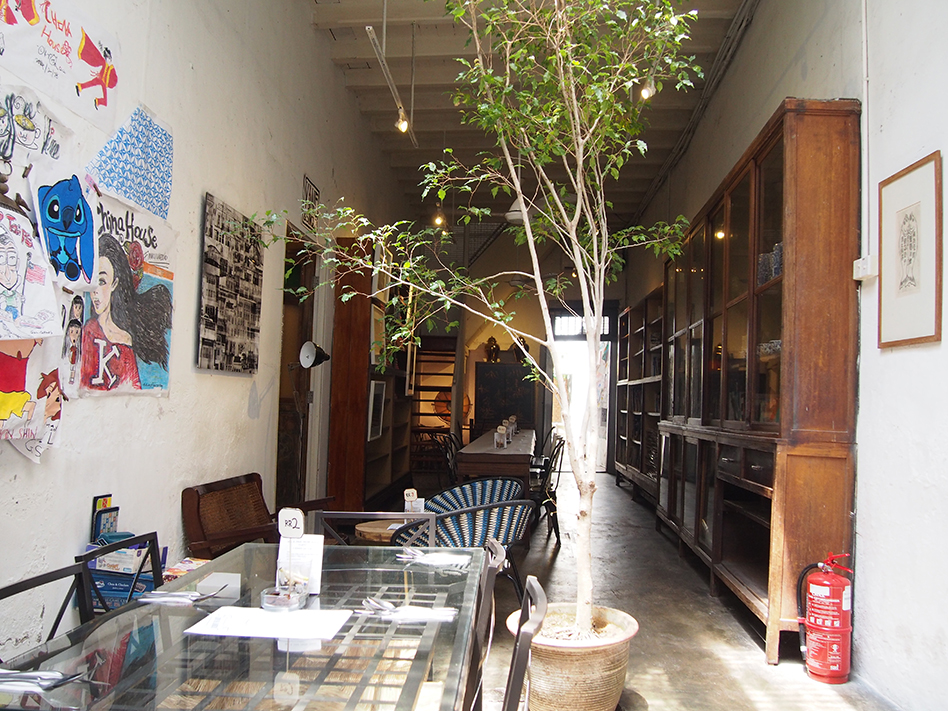 joyeaux cafe
• • •

Less is More.
The concept worked wonderfully for this minimal and simple cafe. It was almost like stepping into a Japanese-French styled boulangerie. The soft hues and wooden furnishing of this place provided a homely feel. We opted for level 2 seating and were in awe of a ceiling filled with patio lights. Every part of the design of the cafe was well-considered – from the use of light and space, to the canvas material the menu has been printed on. I particularly enjoy the photos on their facebook page as well.
79 Jalan Nagore
Penang, Malaysia
Pit Stop Cafe

• • •
There were a couple more cafes that we actually covered but here are the most memorable ones! Pit Stop was the cafe we actually literally staggered into, barely escaping the ruthless heat.
12, Lebuh Chulia, Georgetown, Penang 10200
So we have come to the end of Georgetown Trilogy, thanks for sticking around! By the end of this post, we are actually contemplating on attempting a #sweatdripsdownour___ II Penang food trip! Till then, I will be dreaming about the tasty Hokkien Mee, Assam Laksa, and Chendol ..... (breaks out in cold sweat). Have a lovely week ahead. ☺
Georgetown Trilogy : Part I [sights], Part II [art], Part III [food]